University of Chicago
The "Travel Piece"
This is a printed information booklet for college admissions outreach. Known internally as the "Travel Piece," our outreach officers bring it to college fairs and schools educate prospective students on the benefits of a UChicago education. I loved working on this thing, such dynamic information offered room for a dynamic design with built-in motion.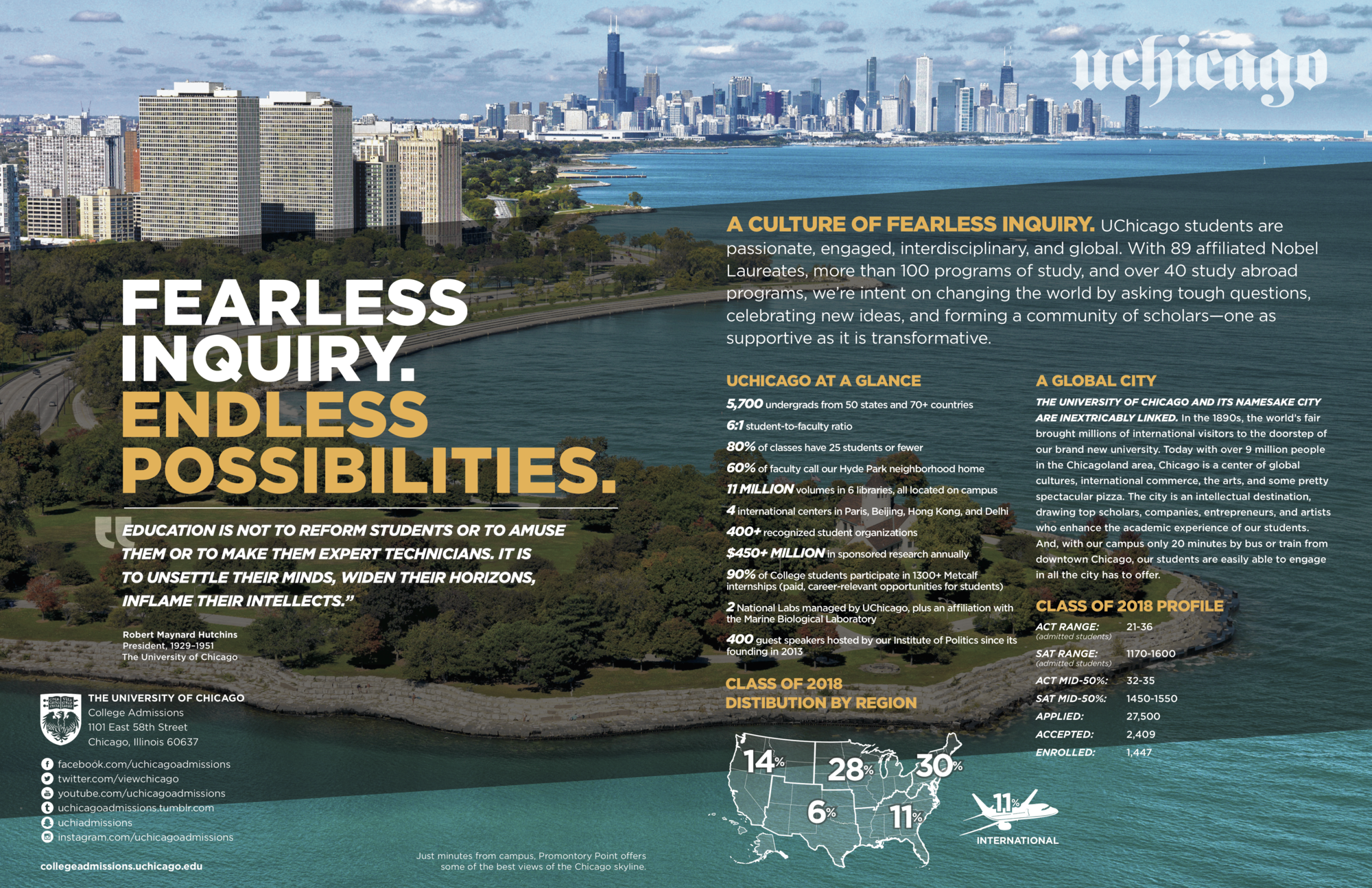 The "GSC"
This project never came to fruition, but I really loved it so I want to share it. This was "Your Guide to Selective Colleges." Being a highly-selective school itself, UChicago wanted to produce this piece that would let students know what it really takes to get into selective schools. A student unconfident in their abilities and records may not apply to a selective school. But the GSC was to be a realistic way of evaluating themselves against the ultra complex selection methods for such schools; it could show they actually might have a good chance of admission.
Because the piece wasn't printed, art and copy never really landed on my desk. So for layout aesthetic planning, I created the following pages. I use Nic Cage as FPO imagery all the time and I'll never stop.
Info Icons
I know these don't really fit on a publications-focused page but I thought I'd share them. These were little web graphics that would sit next to tidbits of information on ViewChicago, college admissions' student engagement site.
Advancing Careers
Career Advancement is a department of UChicago that focuses on planning career trajectories for students and connecting them with the right people to get hired (see my Career Quest videos for more). This was a trifold publication that offered real-life student examples of career trajectories. With quite a bit of concurrent linear information, staying within the grid was a rough task. Breaking out of it, we landed on this football-shaped group of paths. I feel alright about it. For the record, I don't know what I was thinking with the header alignment in slide three. I've gotten better since then, I swear.